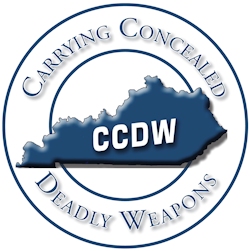 Carrying a Concealed Deadly Weapon (CCDW) Permits
How do I get a Concealed Carry permit?
The following are the required steps in obtaining a concealed and deadly weapons license:
STEP 1: You must complete the required training course and receive your training certificate.
NOTE: This requires a $75.00 fee, which is paid directly to the certified instructor.
Certified Campbell County Instructors can be found at this link
STEP 2: You must obtain a color photograph not smaller than 3 1/2×4 inches and not larger than 4×5 inches. The photo must be a full-face shot. Kentucky State Police will accept a passport photo.   For an additional $5.00, the Campbell County Sheriff's Office will can take the photo for you.
STEP 3: a check or money order in the amount of Forty Dollars ($40.00) payable to Kentucky State Treasurer. No Cash.
STEP 4: A check (payable to the Campbell County Sheriff's Office) or cash in the amount of Twenty Dollars ($20.00).
The Campbell County Sheriff's office is open Monday through Friday 8:00am to 4:00pm, Saturday 9:00am to Noon.
NOTE: CCDW's are delivered to and can be picked up only in our Newport office at 1098 Monmouth Street, Newport, KY 41071