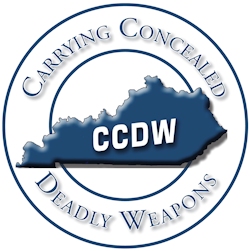 Carrying a Concealed Deadly Weapon (CCDW) Permits
How do I get a Concealed Carry permit?
The following are the required steps in obtaining a concealed and deadly weapons license:
STEP 1: You must complete the required training course and receive your training certificate.
NOTE: This requires a $75.00 fee, which is paid directly to the certified instructor.
Certified Campbell County Instructors:
Kenneth Holstein – Instructor, Fort Thomas, (859) 802-2216
Kenneth M. Clift – Instructor, Newport, (859) 743-3412
Kristina A Espy – Instructor, Bellevue (513) 328-0909
Robert E. Reynolds – Instructor, Cold Spring, (859) 638-3711
Dennis Michael Klein – Instructor, Alexandria (859) 448-9595
Christopher R. Mallory – Instructor Alexandria (859) 466-6516
Jeffrey Alan Moles – Trainer, Wilder (859) 441-6837
James F. Poynter – Instructor, Bellevue (859) 743-4187
Kevin Sanzenbacker – Instructor, Southgate (859) 442-0383
Ryan M. Schmidt – Instructor, Bellevue (859) 512-4568
Timothy Lee Vinson – Instructor, Alexandria (859) 635-7536
A Statewide List of all Kentucky Certified CCDW Instructors and Trainers
STEP 2: You must obtain a color photograph not smaller than 3 1/2×4 inches and not larger than 4×5 inches. The photo must be a full-face shot. Kentucky State Police will accept a passport photo.   For an additional $5.00, the Campbell County Sheriff's Office will can take the photo for you.
STEP 3: a check or money order in the amount of Forty Dollars ($40.00) payable to Kentucky State Police. No Cash.
STEP 4: A check (payable to the Campbell County Sheriff's Office) or cash in the amount of Twenty Dollars ($20.00).
The Campbell County Sheriff's office is open Monday through Friday 8:00am to 4:00pm, Saturday 9:00am to Noon.
NOTE: CCDW's are delivered to and can be picked up only in our Newport office at 1098 Monmouth Street, Newport, KY 41071